Vital records are often the first documents researchers turn to when investigating family history. These records are crucial to genealogical research because they document significant life events such as births, marriages, divorces, and deaths. However, as primary sources, their accuracy is often taken for granted, but errors, intentional or unintentional, are more common than one might think.
My great-aunt Viola's case illustrates the challenges of tracing her life through vital records. While she played an important role in our family's history, her records contained multiple discrepancies, inaccuracies, and potential falsehoods, making the process of verifying the facts of her major life events difficult.
Birth Certificate:
One of the most difficult challenges was Viola's birth certificate. Initially, I couldn't find one, which is not unheard of for that time period. My family knew her name to be Viola Margaret Knowles. Oral tradition however, suggests that Viola's middle name was Consuelo. It was this clue that helped me find a birth certificate for Consuelo Vanderbilt Marguritte Knowles, born November 6, 1895. But was this Viola?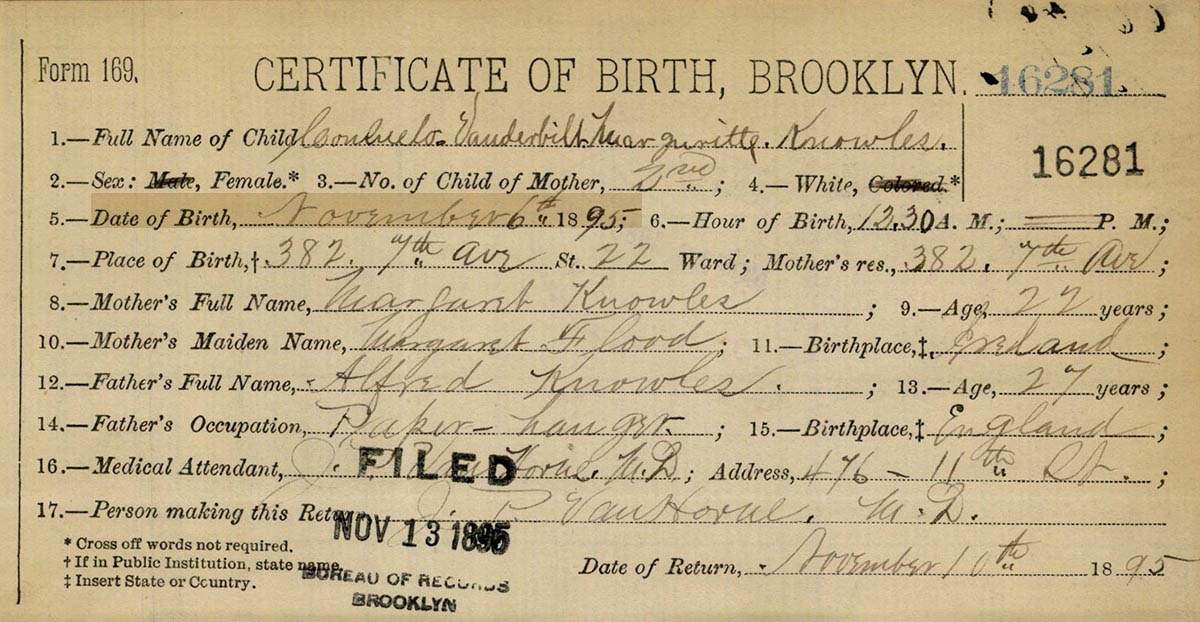 Marriage Licenses:
Viola married twice. In her marriage license with Charles Lawrence McCarthy, she declared her age as 22, pointing to an 1897 birth year. Later, when she married Harold A. Plunkett in 1939, the license gives her birth year as 1897. She was the informant on both marriage certificates. The 1897 birthdate on her marriage licenses does not correlate with the 1895 date on her birth certificate.
Death Certificate:
Viola's death certificate raises more questions. She died in March 1948 at Kings County Hospital, Brooklyn, but discrepancies appear regarding her birth and death dates.
Her birth was recorded as November 6, 1899. This date conflicts with her birth and marriage certificates. Her husband Harold was the informant. This poses the question of whether Harold truly knew her real age.
The death certificate also notes Viola's passing on March 10, 1948, at 5:55 AM. Interestingly, the medical professional's certification states that he provided care from March 10, 1948, to March 11, 1948, with his last sighting of her being at 5:55 AM on March 11, 1948. How could he have attended to or observed her alive on the 11th if her death had been recorded on the 10th?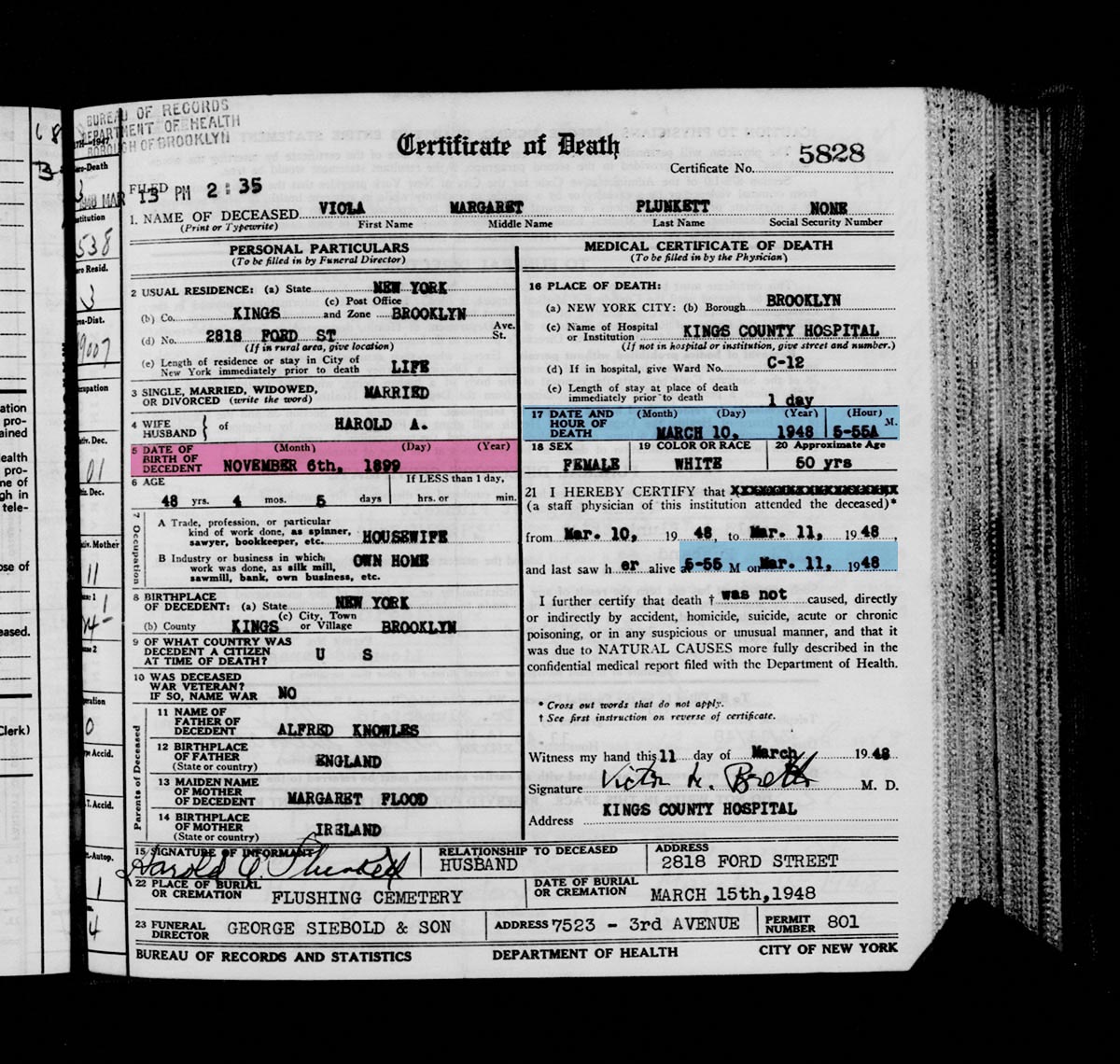 The culmination of issues surrounding Viola's vital records leaves us with unresolved questions about her true birth name, birthdate, and the precise day of her passing. The careful researcher knows not to rely on one record to substantiate a fact even when it appears to be seemingly correct.
Viola's case was more challenging than most. It wasn't a matter of resolving just a single error or discrepancy. Each document had its unique issues, and the information across these records conflicted. Beyond these inconsistencies, there was the fundamental question of her identity, which I had to address first. It would serve as crucial evidence in determining her age. To resolve these complexities, I needed to examine, analyze, and evaluate evidence from a wide range of sources.
Birth Name:
Tackling the birth certificate was the most difficult. It meant examining every single record found for Viola, the records of her family members as well as taking a deeper dive into birth and death records in New York City.
While oral tradition and a birth record for Consuelo provided some evidence, it wasn't enough to show that she and Viola were the same person. The certificate verified that Consuelo was born to Alfred Knowles and Margaret Flood on November 6, 1895. But several questions persisted:
Was there an overlooked birth record for Viola?
Was Consuelo an unrecorded child of Alfred and Margaret?
Did Consuelo appear in any other records?
Did Conseulo die before the family appeared in the 1900 census?
Could Viola have been another family member's child?
Was Consuelo living with another family member?
All these questions needed answers before I could confidently confirm that Viola was indeed Consuelo. I gathered additional evidence from census records, cemetery records, newspaper articles, obituaries, and more, and then compiled a proof argument. Proof arguments are documented narratives where genealogists explain why a solution to a complex genealogical problem should be considered proven. After carefully weighing all the evidence and answering each question, I became convinced that Viola was originally named Consuelo Vanderbilt Maurgaritte Knowles and that by the year 1900, her parents decided to change her name for reasons that remain unclear.
Age/Date of Birth
In the course of my research, I discovered a notable trend: Viola consistently misrepresented her age. Her birth certificate lists her birth date as November 6, 1895. The informants would have been her parents and the attending physician. Census records up until the time she was an adult, reflected her true age and birthdate of 1895. Yet, as she grew older, records indicate she increasingly understated her age. Her husband Harold even provided an incorrect birth year on her death certificate, possibly because Viola hadn't been transparent about her actual age.
Date of Death
The inconsistencies surrounding the date of Viola's death is easily explained as a typographical error. New York City's death certificate process involves many steps and participants. It's easy to see how a mistake could have happened along the way.
I attempted to pinpoint her death date by adding her age, 48 years, 4 months, and 5 days to her birthdate, which led to March 11, 1948. While it suggests that Viola may have passed on the 11th, it's not definitive proof by genealogical standards. Diving deeper, I turned to independent sources like cemetery records, death notices, and newspaper accounts to see if I could nail down the date. However, those records also presented inconsistencies. While I'm inclined to believe the 11th was her date of death, the evidence doesn't offer a solid conclusion. Unfortunately, we don't always find the answers.
Viola's records underscore the importance of a thorough and skeptical approach to genealogical research. Vital records, while fundamental for this pursuit, can contain errors. Therefore, multiple sources of information, be it census records, cemetery records, newspaper articles, or other independent accounts, are essential to construct an accurate family history.
The maze of Viola's records presented a complex challenge, raising questions about her birth name, age, and death date. While some questions found answers, others remained open, emphasizing the need for careful and detailed exploration of one's family history.
In future posts, I'll delve deeper into Viola's intriguing life, so stay tuned! If you're interested in hearing more about the challenges of confirming whether Consuelo and Viola were one and the same, please share your thoughts in the comments below.