Every ten years, the U.S. Census Bureau conducts a federal census to gather the names and other details of every person living in the country. According to the law, every 72 years after Census Day, that year's census is released to the public. 1
I have been anxiously awaiting the release of the 1950 United States Census for the last few years. This is because I knew that it would be the first time I would see my parents in the census. Just a few days ago on April 1st, the National Archives released the census to the public. 2
Both my parents grew up in the Sheepshead Bay neighborhood of Brooklyn, New York. As I've heard it, everyone knew everyone back then and my grandparents on both sides knew one another from around town and knew each other's extended families. Although they lived in the same neighborhood my parents didn't go to the same school and didn't meet each other until 1964.
So it wasn't surprising that I was able to find both my parents living less than a mile away from each other in the 1950 census. 3
In 1950, Mom lived at 3049 Ocean Avenue and Dad lived at 2618 Coyle Street.
My mother, Frances M. Ewart, age 2, lived at 3049 Ocean Avenue, apartment 5 , in the household of her mother Hazel Ewart, a widow, age 37. Also living in the household was Hazel's mother, Margaret Knowles, age 75. Neither Hazel nor her mother was employed. 4
It made me wonder how they got by without any income coming in. My grandfather, Harold Ewart died in 1947, leaving Hazel a widow while she was pregnant with my mother. Things must have been tight. My first thoughts were that maybe Hazel had some money coming in from Harold's Social Security death benefits.
But when I asked my mother about it, she said she didn't think so and that as far as she knew her mother received public assistance. Besides taking care of a young child, one reason Hazel may not have worked was because she plagued by crippling bouts of rheumatoid arthritis and had to depend on her elderly mother for help.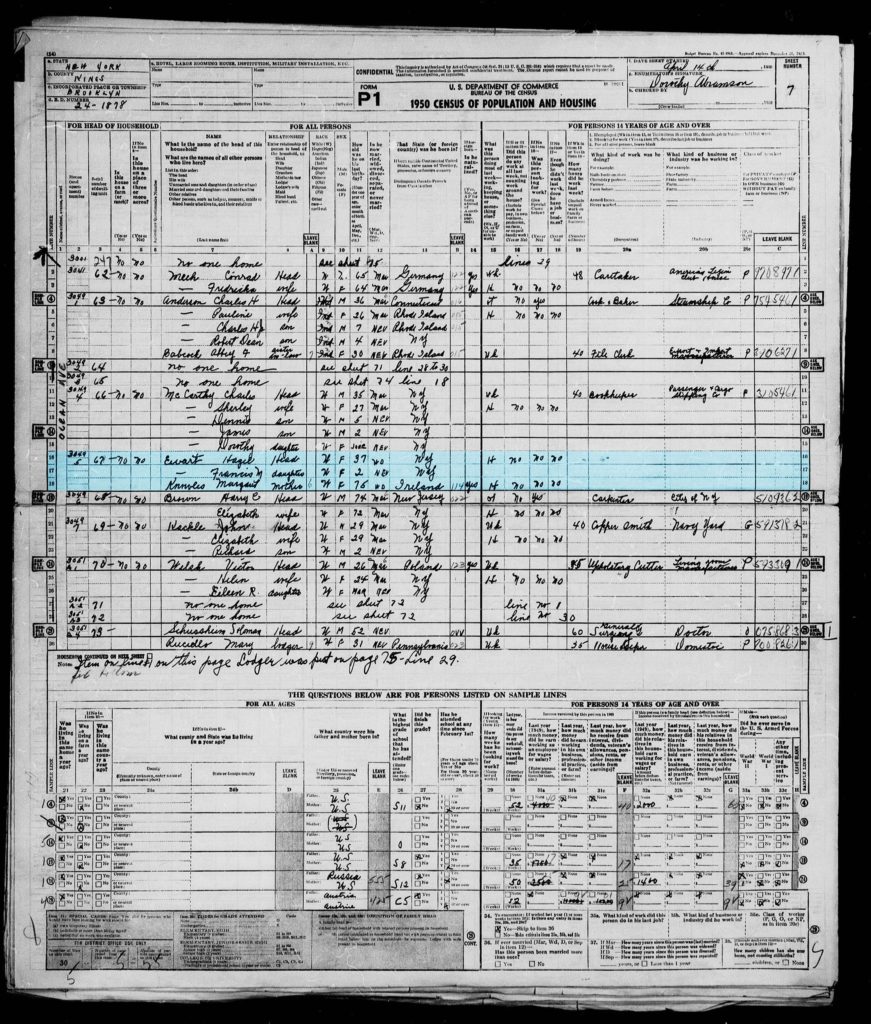 My father, Carlton Hendrickson, age 6, lived at 2618 Coyle Street in the household of his father Carlton Hendrickson, 35, a mechanical draftsman who worked for a private engineering company. The household also included his mother, Dorothy, 28, siblings, Carol, 9, James, 7, David, 9 months old, and Dorothy's father James McKnight. James, a widower, age 64, did odd jobs. 5
My grandmother, Dorothy was selected to answer additional questions on the census. From those questions, we can determine the following from her answers: 6
She had lived at that address the year before.

Although she attended high school for four years, she did not graduate.

She had not been employed the previous year.

A person in the household other than Carlton earned $3,000 the previous year.
Since Dorothy claims she hasn't worked or earned income, then her father James McKnight must have earned the $3000.
Looking at this census, one might think my father's family was better off than my mother's. That is far from the truth. My father often told me stories about how the family often didn't have enough to eat and that he had to wear shoes that didn't fit or had holes in them. I can no longer ask my Dad the details, but my mother recently told me that according to my father, his grandfather James McKnight often provided the family with food – hundreds of pounds of potatoes that were stored in the basement. He told my mother that if it wasn't for his grandfather, they may have starved.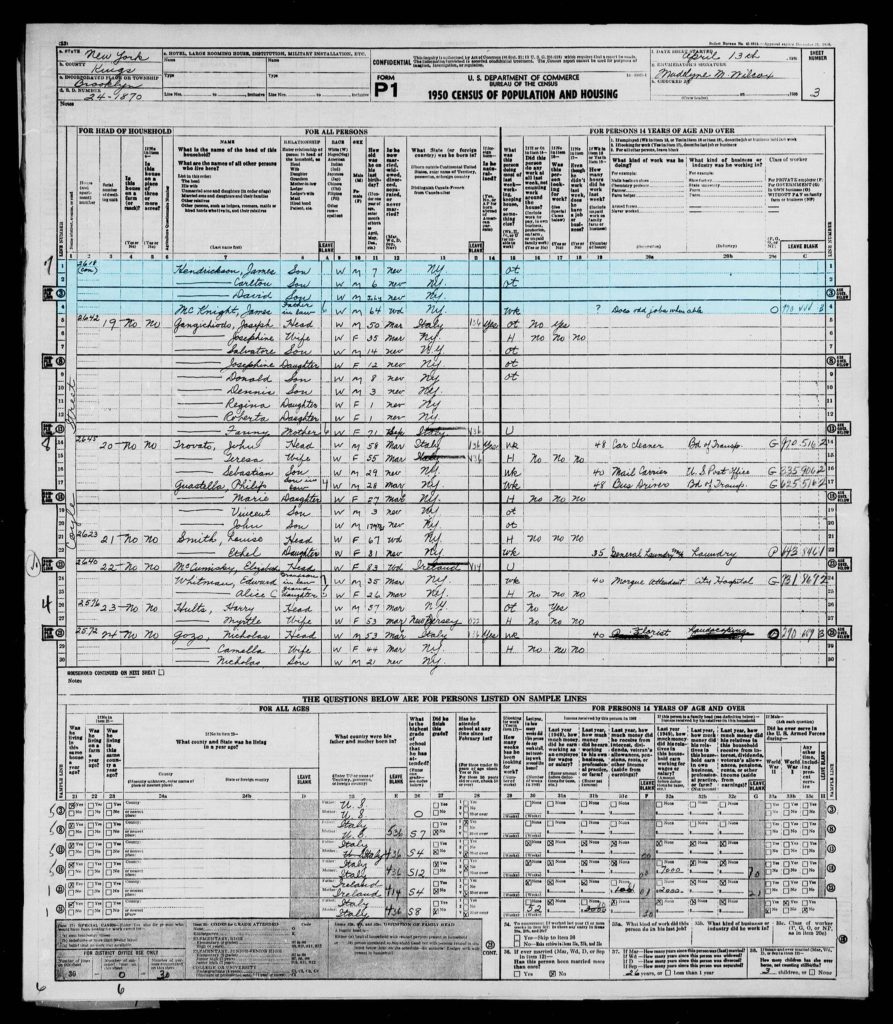 As a side note, living next door were my father's paternal uncle Robert Hendrickson, 34, his wife Violet, 32, and children Robert Jr., 6, and daughter Lisa, 3. Robert was an auditor for the Department of Commerce. 7
Want to find a loved one in the 1950 U.S. census? Look for them here at the Official 1950 Census Website.
---